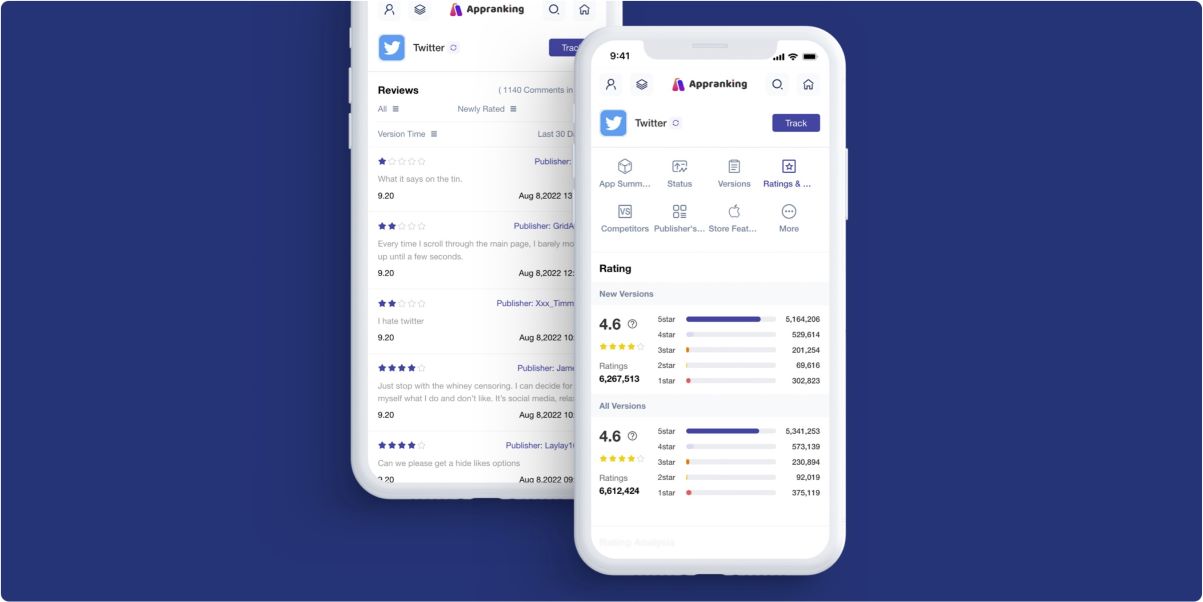 Paid User Acquisition (UA) and App Store Optimization (ASO) are frequently viewed by businesses as two distinct teams with distinct goals that are largely ignorant of one another's work. Contrary to popular belief, both methods of acquiring mobile users have the same objective: to increase the conversion of high-quality users in a sustainable and scalable manner while promoting your app. Given this, why should they be examined and judged separately?
You must chart a course for incorporating sponsored UA and ASO into your marketing tactics if you want to raise your app's visibility, produce higher-quality installs and users, and eventually contribute to overall mobile growth. However, developing such a strategy for your app and incorporating it into your marketing activities can be trickier than you might think. Numerous challenges may arise, including maintaining a high ROI while maintaining a low CPI, identifying paid actions that influence organic outcomes, and the possibility of cannibalization.
As you can see, getting the paid UA and ASO teams to cooperate won't always involve beer and skittles, but developing a comprehensive mobile growth strategy is essential for your company's long-term objectives. What are the best ways for you, as app developers and marketers, to use sponsored UA and ASO to your advantage?
The correlation between UA and ASO
The first step in maximizing your paid UA and ASO efforts is to consider their relationships, including how they influence one another.
Finding ways to increase organic traffic to your app is one of the most frequent problems when it comes to app growth. Any business must concentrate on ASO in order to develop and position itself on app stores, given that organic installs are linked to reduced acquisition costs and frequently higher retention rates.
Paid UA is also required to introduce new features or increase user awareness. On average, paid app downloads double organic downloads by 1,5, and in some categories, this multiplier can reach over 17. Maintaining the best possible app store placement is essential to attracting new users who have been attracted to your adverts thanks to this complementary relationship.
Ultimately, your install volume is the first sign of your app's category rating, which has an effect on how well you can navigate. Understanding the true impact of the UA - ASO funnel at this point is crucial.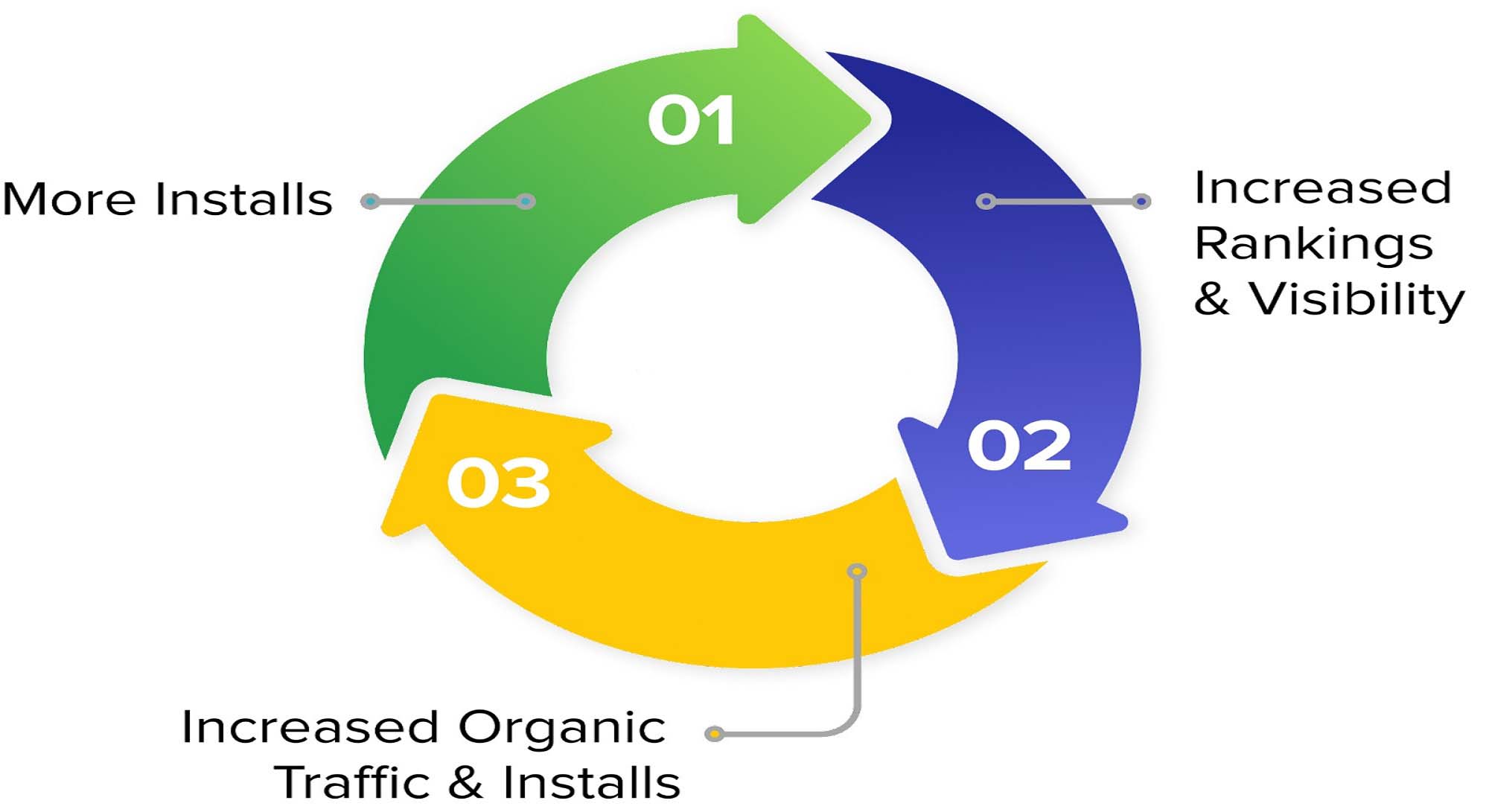 The category ranking of your app or game is influenced by the total number of installs, which also affects browse performance. Even though your app ranks higher as a consequence of installs, you are likely to get more installs from browsing, and as a result, your presence in app stores grows.
The impact of UA on ASO
Paid user acquisition is the practice of spending money to advertise an app in order to increase visitors to your app store product page. When you consider the steadily growing quantity of apps available in app stores, you should put your shoulder to the wheel to stand out. The best way to get your app off the ground if it doesn't appear in search results naturally is to pay for this traffic. Once you've achieved that boost in traffic and paid installs, you should also be able to see an increase in organic traffic. This rise in organic traffic triggers a further rise in organic installs, improving overall app store visibility.
Paid UA is a common option for apps, particularly younger ones, whose ad campaigns are focused on branded and high-search-volume keywords to increase installs. Given that visitors are exposed to your brand through the keywords of your paid UA and may later search for it, it has a lot of potential for an organic approach. This eventually results in a significant improvement in your app's organic presence and promotes organic installs of your app. Despite the fact that users were first exposed to a paid advertisement, this type of traffic will be used for organic search in app stores.
As you are all aware, one strategy to increase brand recognition is to provide value to your users by creating deep connections through mobile ad creatives. Users are more likely to connect with an advertisement if they can connect it to your brand, thus the advertisement needs to be consistent with and pertinent to your brand identity.
Take Spotify as an illustration.

In terms of color and style, Spotify constantly carries out its branding initiatives in paid UA. The color scheme they use in their ad creatives matches the color of their app icon, as you can see from the screenshots up top.
The aforementioned example illustrates the significant relationship between UA and ASO; nevertheless, it is not always easy to distinguish and attribute this without understanding how ASO affects UA.
The impact of ASO on UA
In order to increase installs and conversions for your app, ASO is the process of raising your app's exposure in app stores. Apple estimates that up to 65% of all software downloads come from consumers who conduct keyword searches on the App Store. This rate illustrates that you are missing a great chance to be found by high-quality users if you aren't investing in ASO.
No matter how they find you, whether, through paid advertisements or organic search results, every customer who visits the app store to download your software will eventually land on your product page. So it's crucial for you to strategically improve your app store product page if you want to boost conversion rates and reduce CPIs for your ad campaigns.
The role of Apple Search Ads
Similar to ASO, Apple Search Ads lets you sell your iOS app to high-quality customers while simultaneously increasing your app's exposure by bidding on keywords that are typically difficult to rank organically.
For example, despite having a poor organic rating for the phrase "womens clothes," the app receives impressions from bidding on it, as you can see in the screenshot below.

When organic strategy and Apple Search Ads are combined, cannibalization is the process of bidding and paying for a user that would have installed your app organically regardless. This situation commonly occurs when you are placing a bid on a term, usually a brand keyword, for which your app already has the top organic position in app stores. It may seem absurd to spend money on paid advertising if a user searches for your brand and finds your app in the top two results, one of which is a paid ad and the other an organic search result.
Even though you would have to pay for the clicks, it would be crucial to appear in that paid position because one of your rivals might be bidding on your brand's keywords and appearing there instead.
In comparison to the other app, the first one below has a more significant spend, a higher organic ranking, and lower bids for the term "money management." As you can see, this app is currently ranked 24th organically for this term.

The second app down has a lower cost per click for the keyword "money management" than the first, but higher bids and this app doesn't have an organic ranking for this phrase.

It is a common belief that higher bids should win the auctions. But that's not the case in this instance. When we look for the cause of this, we discover that the first app, which had lower bids for the phrase "money management," had utilized this keyword in its app metadata whereas the second app hadn't.
Because Apple Search Ads place a strong premium on relevancy, organic rankings are particularly crucial for the more well-known terms. For this reason, the app with the better relevance is sometimes more likely to win the auction even though its bid price is lower. In this instance, the first app with a higher organic rating for the phrase "money management" is more likely to be clicked on. Even when the second app's bid is bigger, it is unable to spend the full amount.
Increasing the conversion rate of the app store product page and reducing CPIs are two of the most important KPIs for ASO managers. To do this, ASO managers continually run A/B tests on your app store product page to determine which consumers respond better to which configuration for this page by altering and optimizing your app metadata and your product page creatives.
How to create a user funnel by leveraging UA and ASO?
Now that you are aware of the benefits of incorporating ASO and UA into your market plans, all that is left to do is put this combination into practice, which is best done through coherence.
You should naturally highlight something strikingly similar to or identical to this campaign on your app's product page after launching a paid advertising campaign. A consistent message maintained throughout the whole user funnel not only improves communication and transparency with your users but also scales up conversion rates and, as a result, ROI.
You may increase traffic to your app store product page with the use of paid UA campaigns. By using an effective ASO strategy, you can make sure that users come across assets that have been developed and optimized to promote additional installs. While you entice them to click on your ad with a promise through paid UA campaigns, you should fulfill their expectations when they arrive on your product page by optimizing this page to match what is depicted in your ad. This will help you to create a consistent user experience from impression to the product page to installation.
Users will have more faith in advertisements they encounter if they receive what they were truly promised. Finally, this faith will open the door for higher conversion rates.
We think that by combining sponsored UA with ASO, you may send your users a coherent message. This article has thrown forth some thoughts on why you should do so. You must convince customers to download your app given the millions of others available in app stores. Although there is intense competition, combining paid UA with ASO is the greatest method to propel your app to the top.
Each UA and ASO is a crucial marketing pillar. Since this is the case, app developers and marketers that are able to combine the two to create a comprehensive approach will emerge as winners.
Click here Appranking if you have any questions or if you want to learn more about comprehensive tactics for both paid UA and ASO. We'd be delighted to speak with you!
Empower your team with our App Marketing Intelligence