Scale your business without scaling your workload

Integration
Manage everything in one place
Acquire comprehensive key metrics
Data visualization at any level
Track users' in-app actions

Optimization
Discover top-performing keywords
Improve app store presence
Uncover competitors' keyword strategies

Automation
Automate campaign setup & maintenance
Focus on dynamic bids
Get in-time notifications

Smart Campaign
3 steps to build a new campaign
Set budget & desired keywords
Modify at any time

Bulk Management
Manage keywords in bulk
Manage campaigns in bulk
Manage automation rules in bulk
Getting started with Appranking is easy
Sign up and integrate your Apple account
Link your MMP and create post-install goals
Discover the best performing keywords and scale faster
Optimize your bids and campaign management with smart tools
Take full control over your Apple Search Ads performance
Give your campaigns a boost with Appranking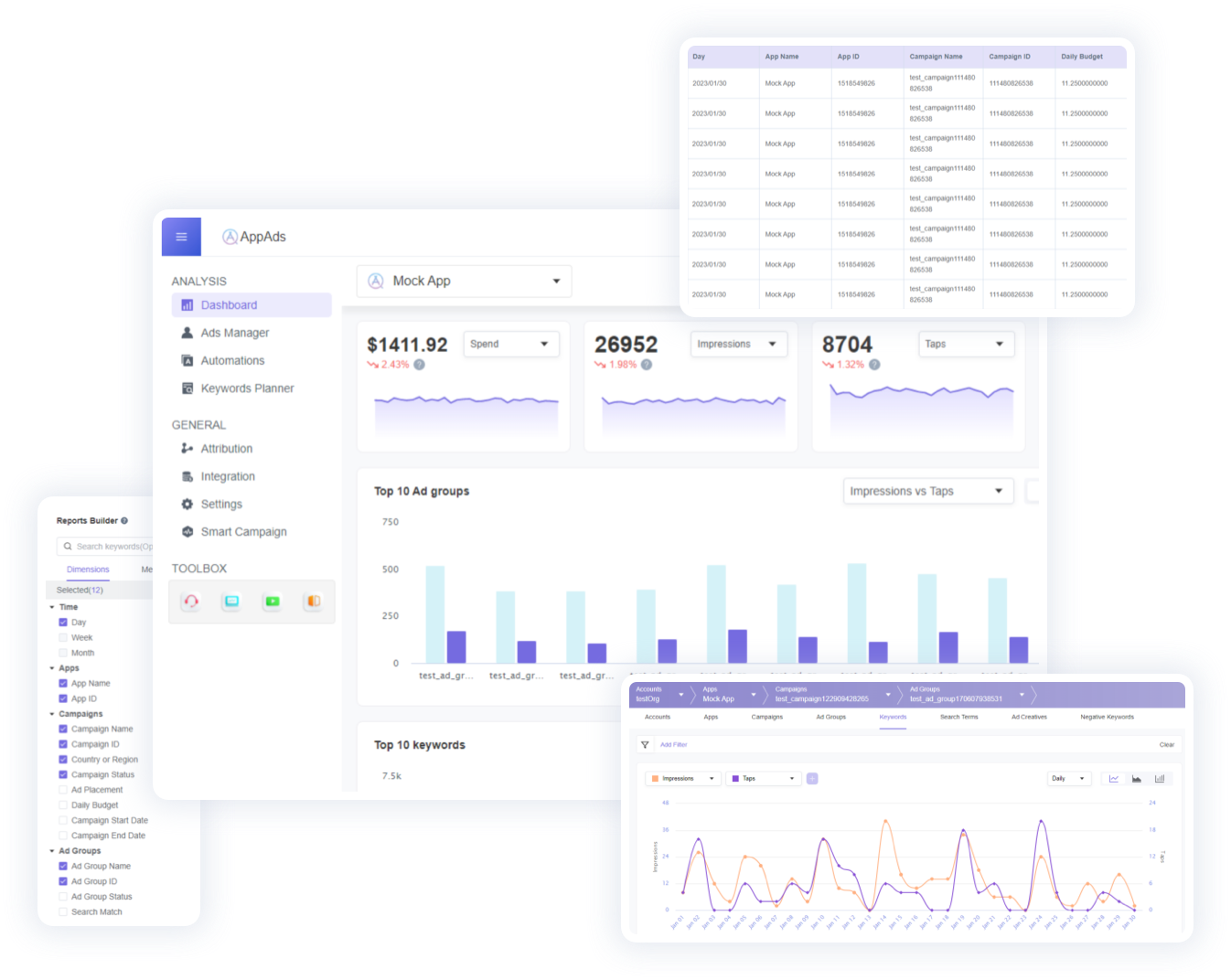 Data Insight
Deep Dive into Apple Search Ads Campaign Performance
Integrate with Apple Search Ads account and capture valuable data, which generate key metrics & chart views for instant insights, delivering transparent and first-hand data to support your business.
Custom Reports allows you to independently design the fields and styles of reports based on your business needs and priority of data metrics.
MMP Integration
Attribution Partners and Goals
Bridge the gap between dynamic data in Apple Search Ads and your MMP, determine your own KPIs and track in-app actions of users with custom Goals, see what brings real profit and optimize what's not, map the entire user acquisition funnel on a single platform.
Besides, it can be combined with Automation Rules to meet dynamic demands.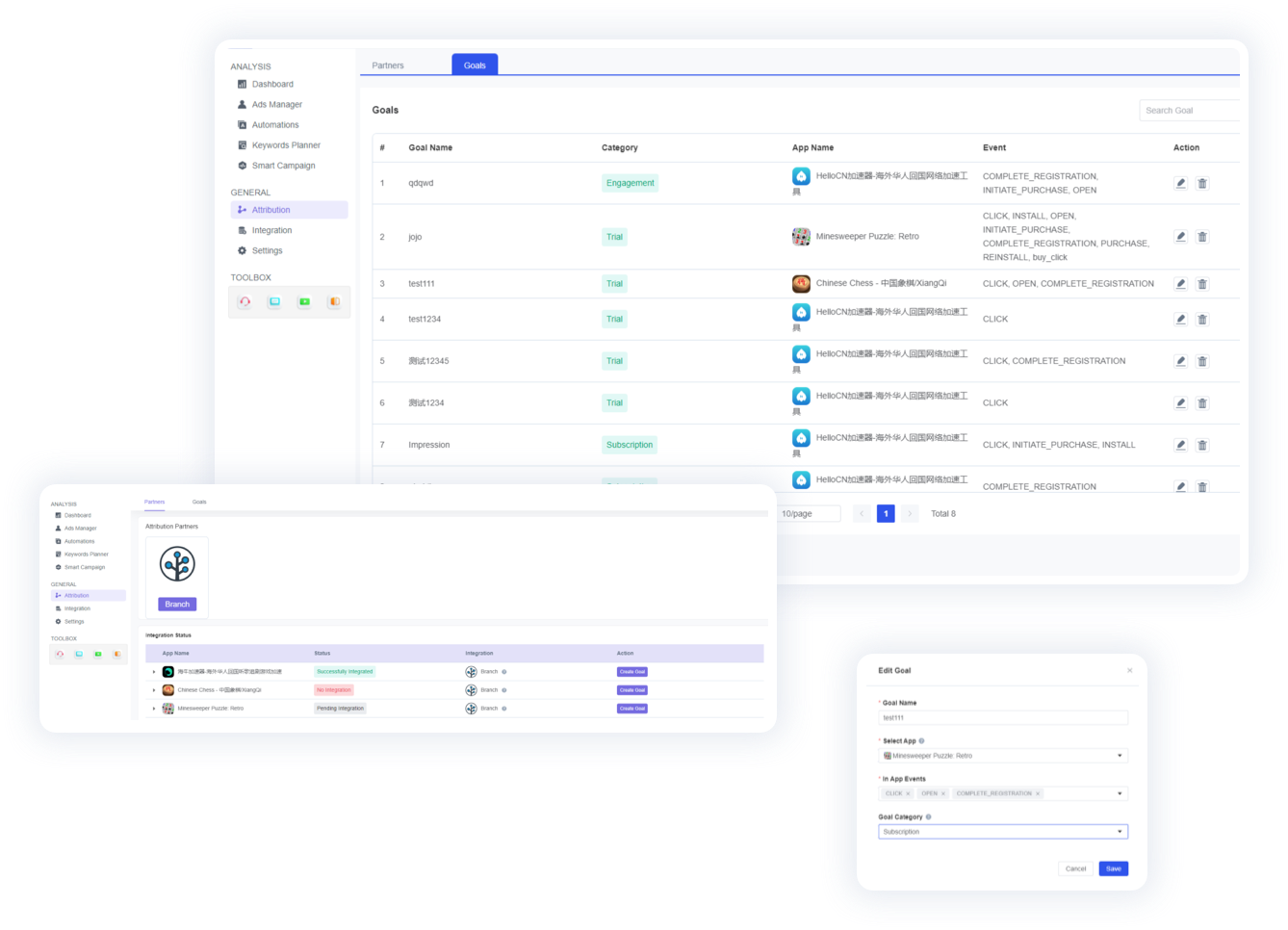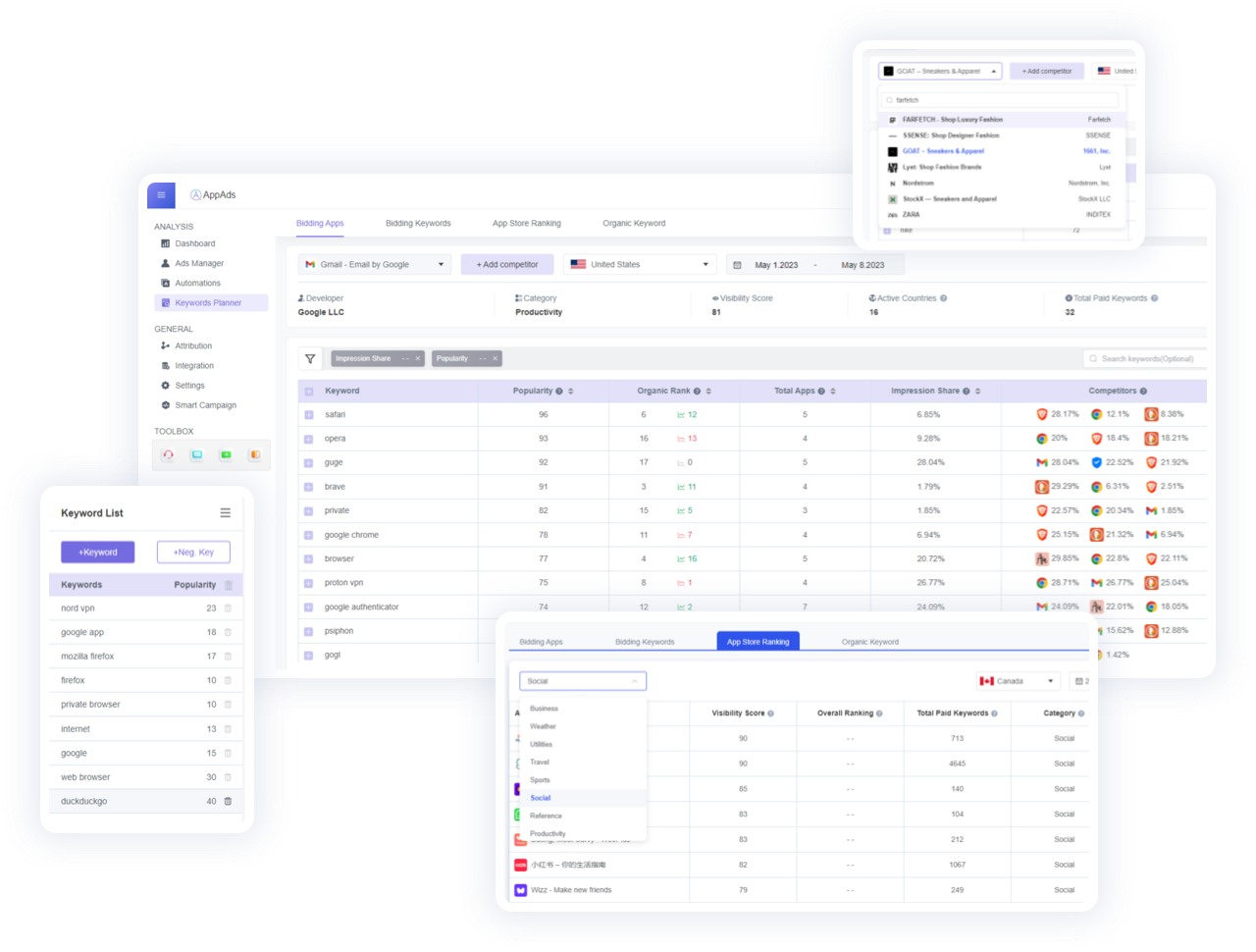 Keyword Discovery
Keyword Intelligent Tools
Identify new keywords and seamlessly integrate them into your Apple Search Ads campaigns, transform keywords into key insights.
Uncover which keywords are the most effective for every audience and reveal organic keywords your competitors are ranking for, analyze their rankings, keyword popularity and impression share from the overwhelming information.
Smart Tools
Automation & Smart Campaign
Maximize your management efficiency with our automation rules and AI-powered tools, scale campaigns with minimum effort and keep your desired KPIs in a reasonable scope.
Forget about complex campaign structures, just 3 steps to create a new campaign to start your Apple Search Ads journey with quick wins!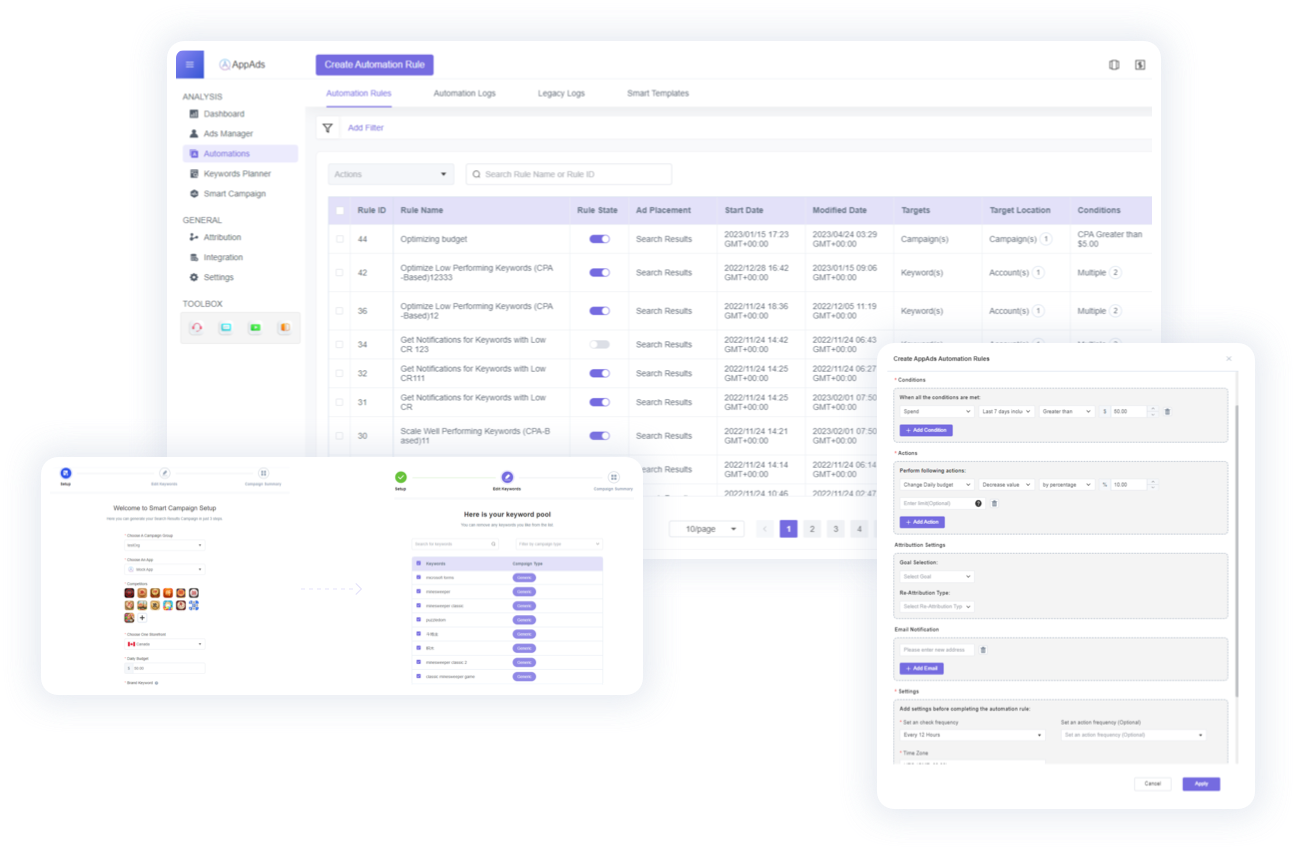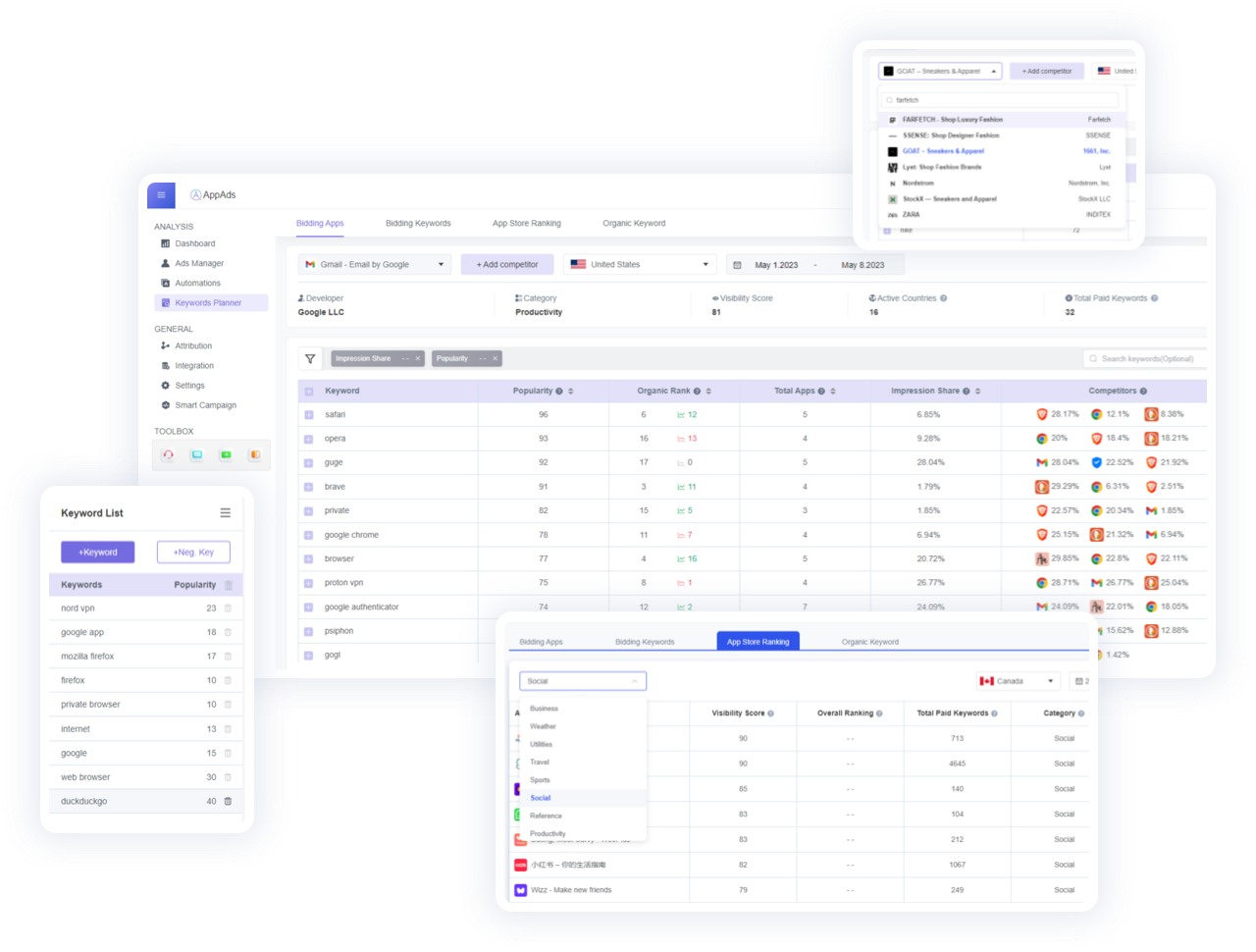 Shortcut Operations
Bulk Management & Multi-filter
Manage in bulk at any level: from keywords to campaigns and automation rules, to save time and free up your team to focus on more strategic activities.
Advanced multi-filter displays data from any dimension you want to combine, deliver intuitive insights and help you reach the KPIs.
Appranking © 2022 All Rights Reserved