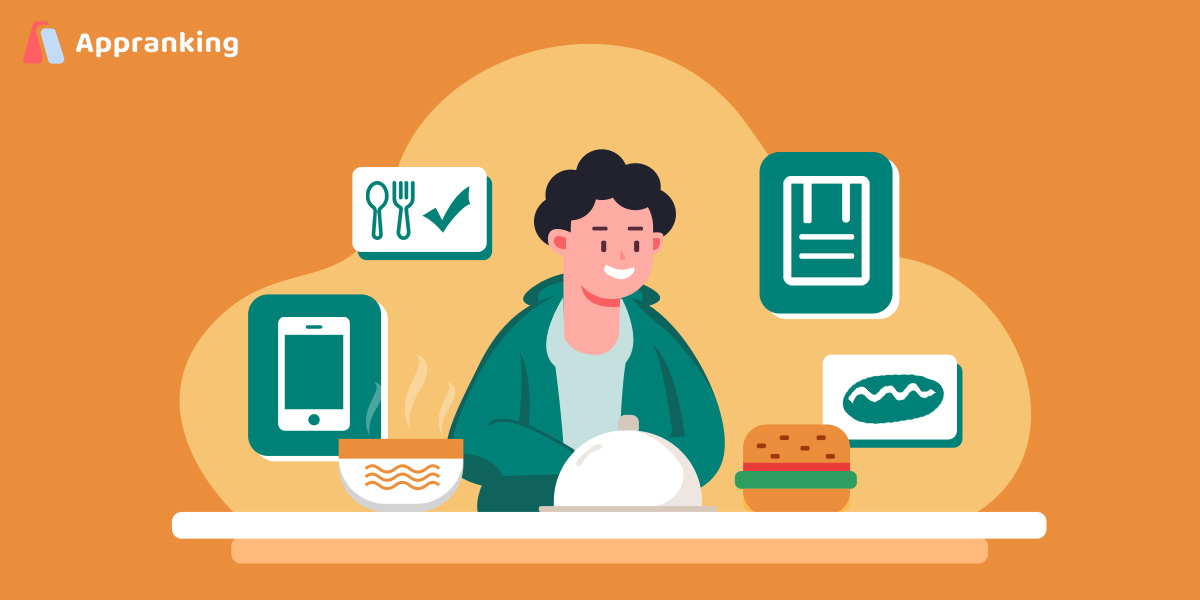 Because of the changes in our daily lives, food delivery is constantly evolving. Food delivery apps experienced explosive growth in 2020, fueled by the COVID-19 pandemic, as they enabled consumers to have their food delivered safely and conveniently. However, the pandemic's material effects have largely faded, and the valuations of most food delivery apps have declined in 2022. The drop can be attributed to consumers returning to in-person dining at restaurants and dealing with rising living costs. Despite the obvious challenges, food delivery apps have room to grow and increase revenue in 2023, as consumers are still drawn to convenience. According to a recent survey, the average American places nearly 55 food delivery orders per year, or once per week, for a total of nearly US$1850. Furthermore, despite higher prices and rising inflation, DoorDash, one of the top four food delivery companies in the United States, reported a record-breaking number of orders in Q3 2022. In Q3 2022, the platform received 439 million orders, with a 30% increase in gross order value.
As consumers prepare to make new year's resolutions, food delivery apps must also adopt new and fresh strategies to stay afloat, as a global recession is expected in the coming year. We analyzed installs, sessions, and session lengths of food delivery apps to help app marketers understand user behavior and plan for next year. We've also prioritized expansion in EMEA and North America.
Installs are higher than pre-pandemic levels
Global food delivery app installs reached an all-time high in 2021 before gradually declining throughout 2022. Installs in 2022, on the other hand, were higher than both pandemic and pre-pandemic levels. Food delivery app installs in 2022 are 5% higher than in 2020, and 34% higher than in 2019.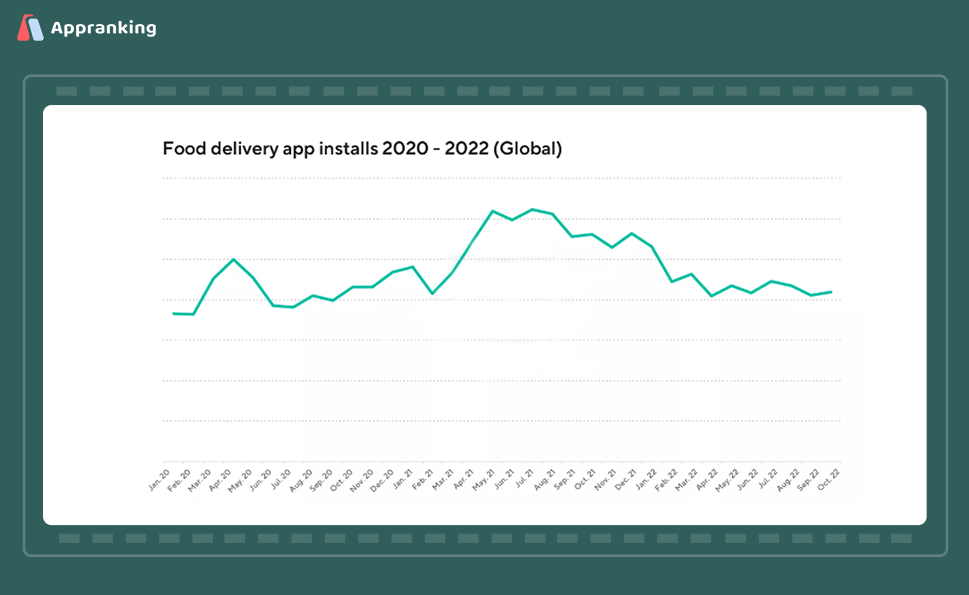 When looking at regional data, EMEA's installs of food delivery apps increased by 45% between 2020 and 2021. Installs fell in 2022, but they were still well above pre-pandemic levels, up 26% from 2019. Similarly, from 2020 to 2021, food delivery app installs in North America increased by 29%. Installs in 2022 are down from 2021, but they are up 52% from 2019.
Users are hungrier than ever for food delivery
While global food delivery installs are slightly down, sessions are up significantly. Global sessions of food delivery apps increased by 58% year on year in 2021, and another 3% in 2022. This suggests that food delivery apps were successful in retaining and engaging users acquired during the pandemic's peak.
Furthermore, global sessions increased by 212% between 2022 and 2019.
North America saw the greatest increase in food delivery app sessions, with a 77% year-over-year increase in 2021 and another 20% in 2022. Food delivery app sessions increased by 48% in EMEA from 2020 to 2021 and 3% from 2021 to October 2022. Food delivery apps have become part of the "new norm" in North America and Europe. Food delivery is more than just a convenience; it enables users to personalize their orders, take advantage of customer rewards and loyalty programs, and easily track costs and food consumption.
Users spend more and more time on food delivery apps
Not only are sessions increasing in number, but so are session lengths. In 2020, the average global session length for food delivery apps was 12.7 minutes, rising to 14.7 minutes in 2021 and reaching a staggering 16.07 minutes in 2022. Users spend more time on food delivery apps each year, possibly due to the growing number of options and changing eating habits.
Session lengths for food delivery apps in EMEA have also increased year on year since 2020, rising from 10.36 minutes in 2020 to 11.25 minutes in 2021 and 11.74 minutes in 2022. North American users spent the most time on food delivery apps, averaging 16.33 minutes in 2020, rising to 20.08 minutes in 2021 and 21.59 minutes in 2022. More time with users means more opportunities for upselling, cross-promotion, and enticing loyalty and reward programs.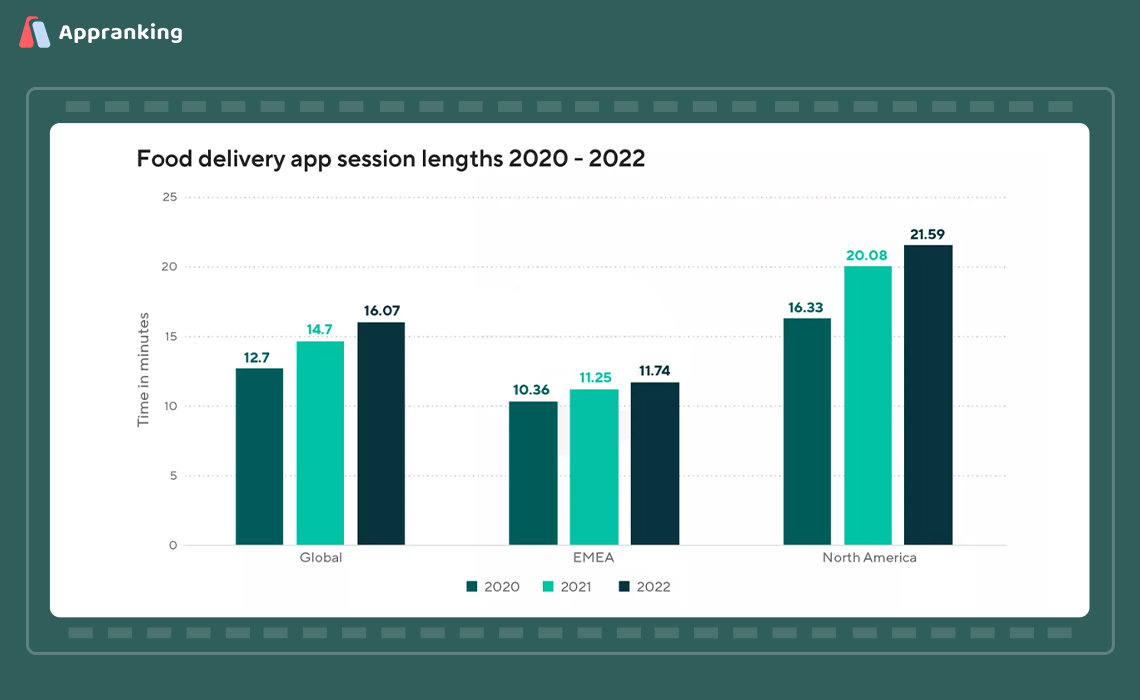 Empower your team with our App Marketing Intelligence