👉The original blog is posted on FoxData.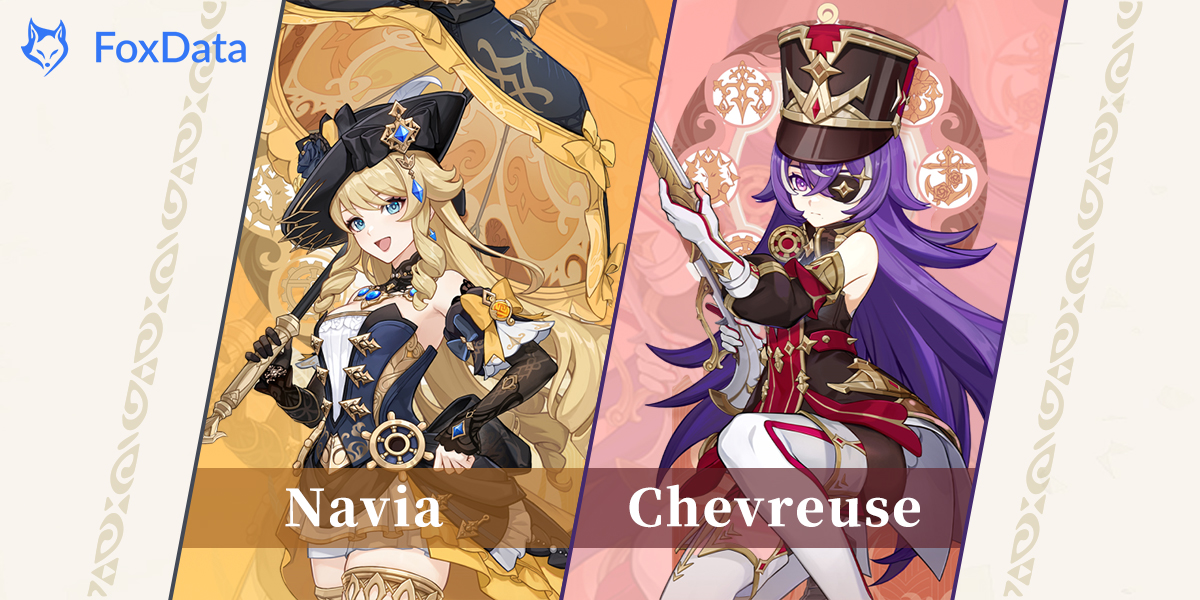 Genshin Impact, the popular action role-playing game, is gearing up for its 4.3 update, bringing forth two highly anticipated characters that are set to enhance the gameplay experience. In this article, we will delve into the details surrounding Navia and Chevreuse, the two new characters making their debut in Genshin Impact's 4.3 update, and explore their unique abilities and backgrounds.

Navia: A Mysterious and Powerful Cryo Character

Navia is one of the new characters set to join the Genshin Impact roster in the upcoming 4.3 update. Described as a mysterious and powerful individual, Navia possesses extraordinary abilities that make her a valuable asset in battles. Armed with a polearm, she excels in long-range combat while maintaining high mobility. Navia's Cryo element grants her the power to freeze opponents, providing strategic advantages during intense encounters.


Here's the official description provided for Navia:
---
"When we were young, we used to play a kind of tabletop game where she would be the adventurer and I the host. Playing things by ear has always come naturally to me – but all the same, I was often stumped by her decisions and the ripostes she came out with. But then again, that's what made it so interesting." – Clorinde

---
Chevreuse: Fontaine's Special Security and Surveillance Patrol Captain


Chevreuse, the other character joining Genshin Impact in the 4.3 update, holds the title of Captain in Fontaine's Special Security and Surveillance Patrol. While she has had less presence in the story compared to Navia, fans are already captivated by her design. Clad in a military-style uniform and sporting an eye patch, Chevreuse carries a gun as her primary weapon. Her Pyro vision hints at fiery abilities, making her an intriguing addition to the game.


Here's the official description provided for Chevreuse:
---
"...Captain Chevreuse, once again I implore you, we must tighten up the Special Security and Surveillance Patrol's entry requirements. Right now, we count among our members petty crooks who have burgled all over the Court of Fontaine, street fighters whose only concern is getting rich, and even a bandit whose band of cronies almost succeeded in robbing a bank! If you hadn't personally caught him red-handed – scoping the place out under the guise of being an investor – they might very well have pulled it off... For pity's sake, we're supposed to be the Maison Gardiennage! Even if just to preserve our image, please consider doing something!" – The ninth in a series of pleading letters sent to Chevreuse by Captain Grosrochard of the Gardes
---
Gameplay Speculations and Release Date

Navia's Cryo abilities can create powerful elemental reactions when combined with other characters, allowing players to deal significant damage to their adversaries. On the other hand, Chevreuse's Pyro skills and unique weapon choice suggest a versatile playstyle that could offer both offensive and defensive options. Both Navia and Chevreuse are confirmed for the 4.3 update, which is expected to release around December 20, aligning with Genshin Impact's usual update schedule.


Conclusion
The upcoming Genshin Impact 4.3 update promises to introduce two captivating characters, Navia and Chevreuse, to the game. With Navia's mysterious background and Cryo abilities, and Chevreuse's role as Fontaine's Special Security and Surveillance Patrol Captain, players can anticipate unique playstyles and strategic possibilities. As the release date approaches, fans eagerly await the chance to explore the abilities and stories of these new characters, further enriching the immersive world of Genshin Impact.

Welcome to read more App Marketing News & Trends on Game!

Now just join FoxData and embark on a journey of business growth as we unveil a FREE App Data Analytics Tool, which boosts your downloads, increases your user base, and watches your performance soar to new heights!

Empower your team with our App Marketing Intelligence
Free forever. Cancel anytime.