The modern take on classic Teenage Mutant Ninja Turtles arcade games is now available on iOS and Android, but it requires a Netflix subscription to play.
Teenage Mutant Ninja Turtles: Shredder's Revenge, a modern take on the classic TMNT arcade games, has been added to Netflix's suite of mobile games. Shredder's Revenge was first released in 2022 for PC and consoles, but if you have a Netflix subscription, you can now play it on iOS or Android.
Shredder's Revenge does a lot to capture the spirit of old-school beat 'em-up games, with beautiful pixel art, side-scrolling levels, and support for up to six players at once. However, the game is also intended to be welcoming to those who may not have grown up with the original TMNT arcade games, making it easier for new players to join in. For more information, read Andrew Webster's interview with designer Frederic Gemus, who discussed the design philosophy behind Shredder's Revenge.
My brief experience with the mobile version has been encouraging. I installed Shredder's Revenge on iOS and joined an online party. While I was concerned about the game's touch controls at first, the on-screen buttons are large and responsive. Even on my iPhone 12 Mini, they never felt like they hampered my experience, though I did occasionally lose track of my character due to the phone's small screen. (If you prefer physical controls, the game also worked with my Backbone One controller.)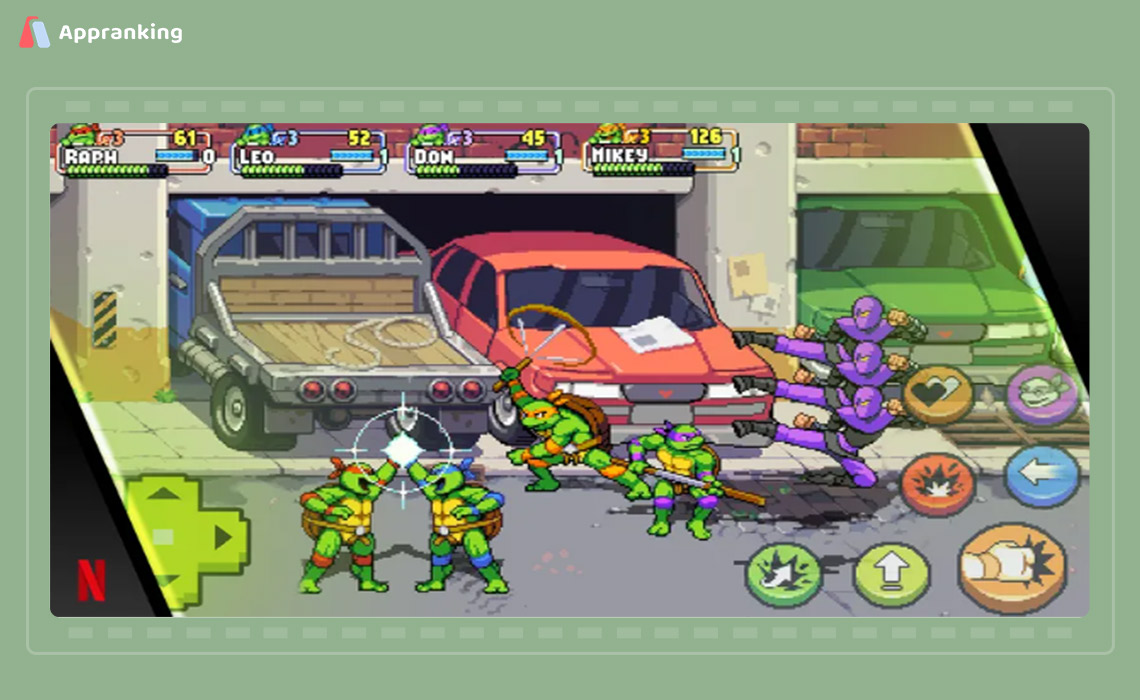 My group, which started with three but grew to six people, breezed through the first level, and if I continue playing, I think I'll do it with online parties. However, if you want to play with your friends on the mobile version, they must also be Netflix subscribers, as crossplay for the mobile Shredder's Revenge only works between Android and iOS players, according to Netflix spokesperson Chrissy Kelleher.
Kentucky Route Zero, Into the Breach, and Immortality are among the many good games available on Netflix's mobile platform. And the mobile offerings are just one aspect of Netflix's expanding gaming investments; the company has acquired studios such as Spry Fox and Oxenfree developer Night School, established internal studios in Finland and Southern California, and is "seriously exploring" a cloud gaming service.
Empower your team with our App Marketing Intelligence