App Marketing Intelligence
Deep ASO, ASA Analytics & App Market Insights
Navigate the app marketing and fuel app growth with Appranking Intelligence, Google Play & iOS app market-leading data analytics platform.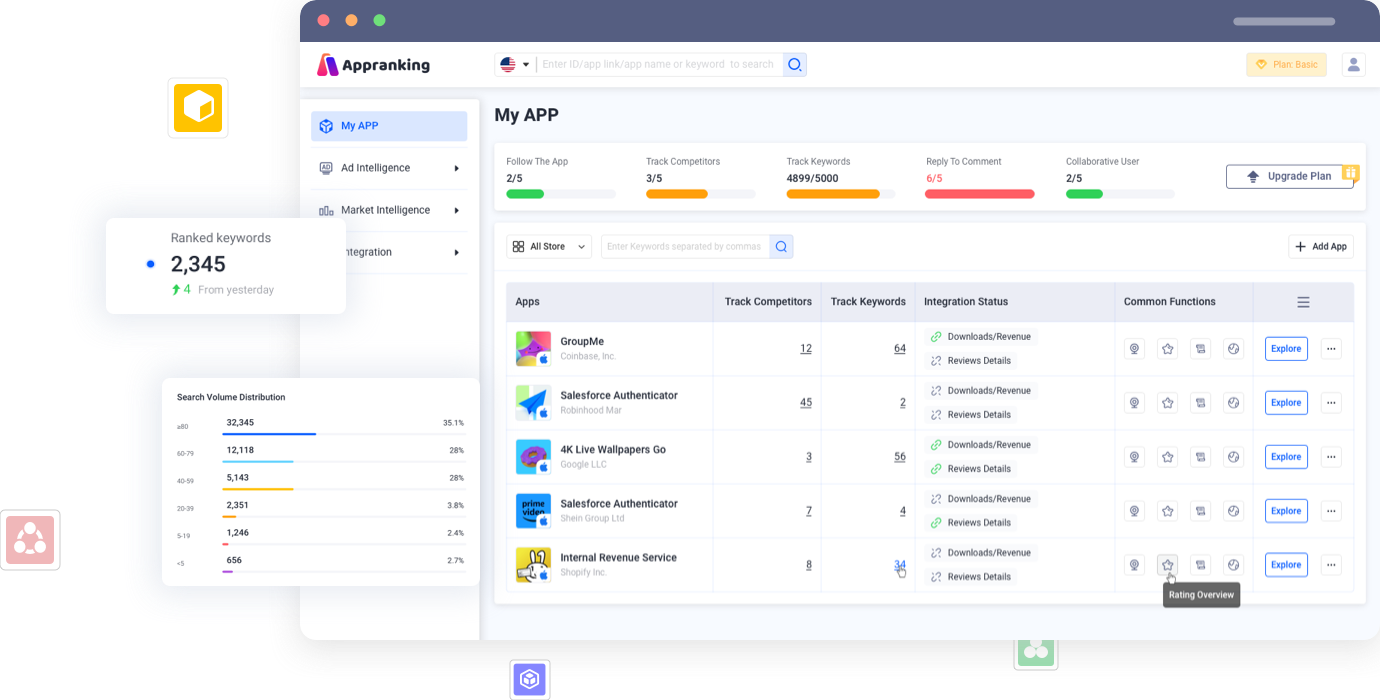 Power the mobile app business with Appranking data intelligence
United States
Free

1

Temu: Shop Like a Billionaire Ad

2

Threads, an Instagram app

Apps No.2 Instagram, Inc.

4

Shop: All your favorite brands
Paid

2

Apps No.1 Shadow Launch Technology Limited

3

Five Nights at Freddy's

$2.99

Games No.2 Clickteam, LLC
Grossing

2

YouTube: Watch, Listen, Stream

5

Tinder: Dating, Chat & Friends Ad
More advanced reports for your ASO/ASA/Marketing data analysis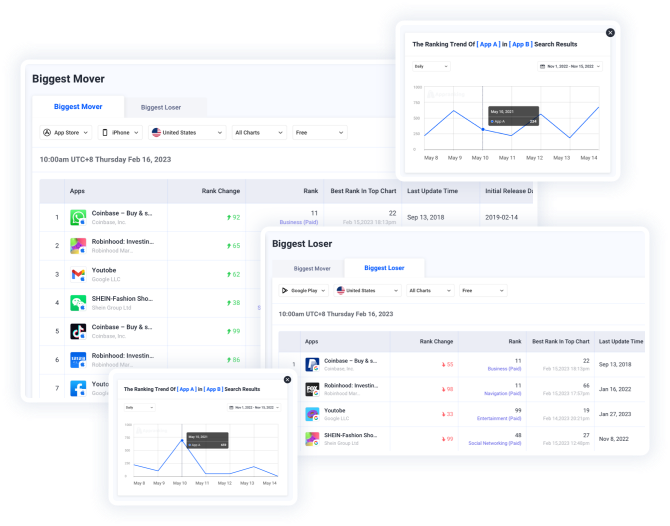 Market Intelligence
Comprehensive data analysis and intelligence solutions of Appranking ensure more convenient app markets research.
Store Monitor
Monitor your app markets & your competitors' app performance in real time.
Market Analysis
Stay on the latest trends in the app store (user searches, categories, apps)
Keyword Solutions
Comprehensive tools to help marketers maximize search traffic in app markets.
ASO Intelligence
Intelligent tools empower you to stay ahead of the competition in app store optimization (ASO).
ASO Report
Insights into App's performance to analyze key metrics (downloads, reviews, and ratings).
Keyword Research
Discover new traffic opportunities and optimize your app metadata for maximum visibility.
Metadata Optimization
API connection and one-stop platform optimize on-page metadata.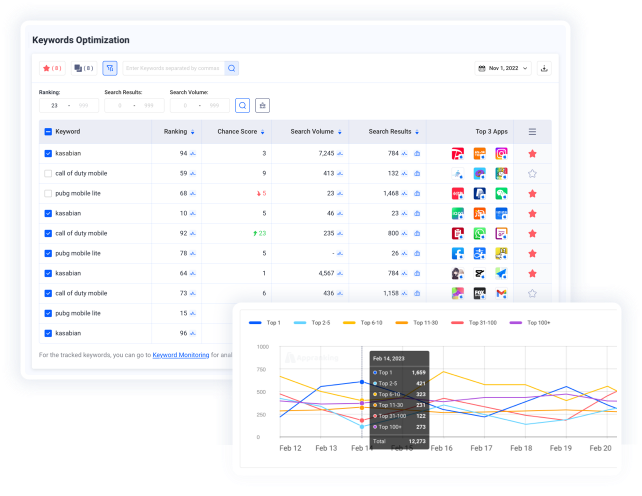 AD Intelligence
Analyze competitors' Ads strategies, allowing to outsmart them & dominate your niche with Ads Intelligence tools.
Bidding Apps
Discover insights into the traffic strategies of top bidding apps in your industry.
Bidding Keywords
Enable you unparalleled access to your competitors' traffic research & keyword strategies
Keyword Research
Maximize the global reach in App Store search results and enlarge app discoverability with keyword optimization tools.
Keyword Research
Unlocking your competitors' keyword strategies conveniently.
Keyword Monitoring
Monitor key metrics of target keywords for keyword solutions improvement.
Keyword Optimization
Enlarge app discoverability with keyword optimization tools.
Ranked Keywords
Check all the ranked keywords of your apps just one click!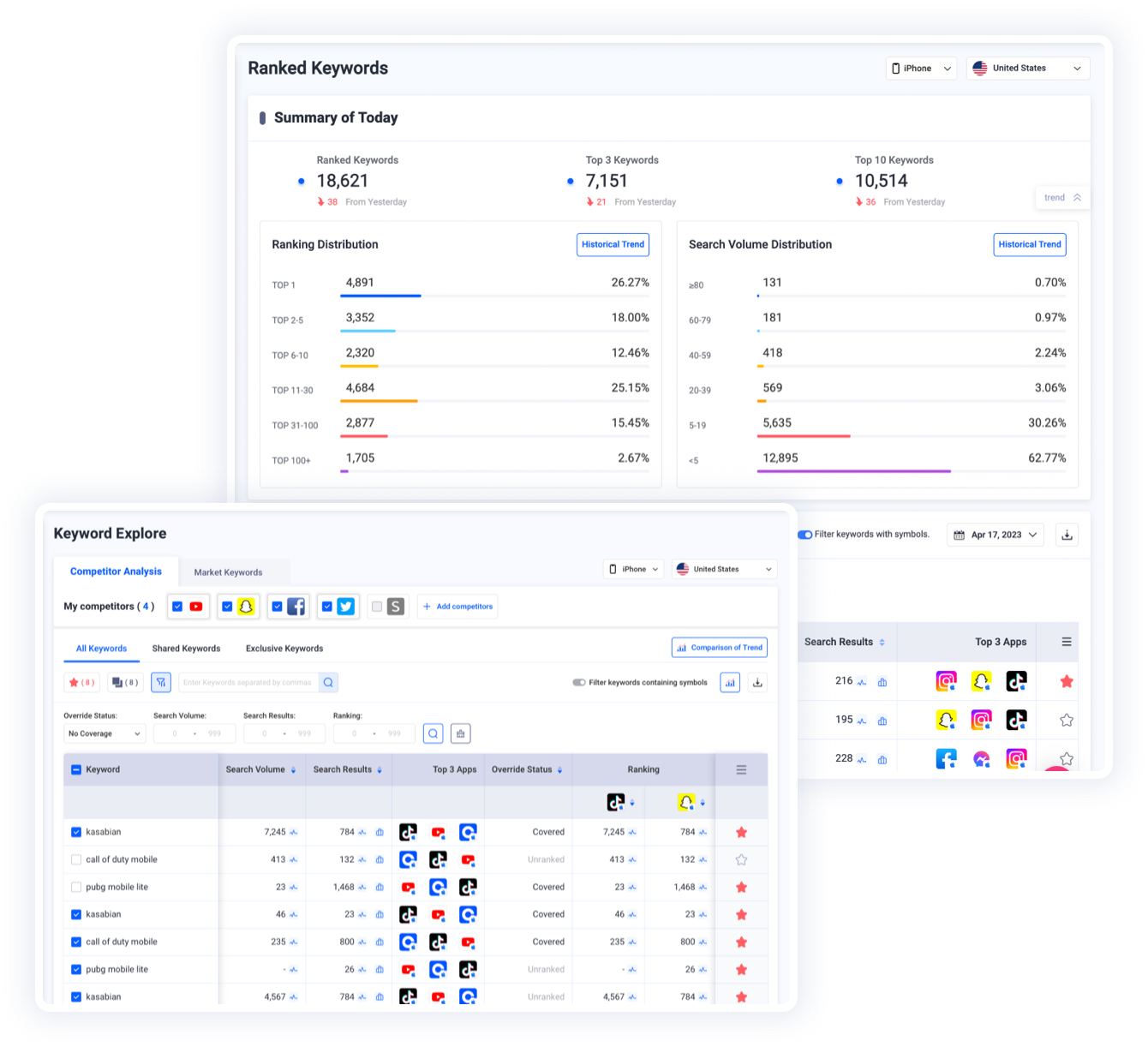 All-in-one data analytics & app marketing performance management solution

Improve visibility

Maximize global reach & traffic

Boost conversion & ROI

Lower downloads & installs cost

Level up competitiveness
App Market with data driven smart decisions & rapid innovation
Analyze all your app marketing data in one place, and make your promotion decisions more smarter, faster, and measurable.
Enable automation & intelligence in APM
The most effective optimization solutions for you to make your app performance management (APM) progress powerful.
Fuel your apps & games growth
Monitor your entire app marketing progress, drive your apps & games growth with effective ASO & Ads.
Lower your traffic spending(CPIs)
Specialist-level app market analysis & marketing intelligence, enable your cost-effective optimization progress simple.
LEVEL UP
App Marketing Performance
Discover the top-performing apps and games on mobile app markets, across high-growth segments and intelligence solutions.
Free forever. Cancel anytime.